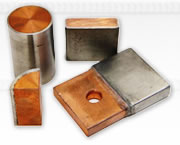 SPF has provided surface finishing equipment (electrodes, heat exchangers, and corrosion resistant bus bars, and etc.) which are made of corrosion resistant metals such as titanium for surface finishing industries, such as metal plating, anodizing, and etc.
The features of SPF product
Equipment made of corrosion resistant metals to be used in the surface finishing process such as various plating, anodizing, electrolytic polishing, pre-treatment, and etc.
More than 5 decades passed since titanium anode basket was introduced in Japan for the first time built under the name of "Titanium Case".
"Submerged Bus Bar", as they say it is turn over the industry common sense, has been used all over the world today.
For ecology, we have some effective products:
Vacuum Evaporation System "Return Liner" will serve your needs and help your business through recycling solution, reducing wastewater cost and so on.
Our original lead clad titanium anode, also known as "SR-8" anode, provides great value in chrome plating and minimizes lead sludge.
Additionally, SPF has a reputation of being the premier company manufacturing electrodes, and has been providing high quality products such as Pt anodes, Heat Exchangers and others since 1949.
You can select suitable materials in accordance with operating condition, among titanium, niobium, tantalum, zirconium, stainless steel, and others.